Abstract:When it comes to plumbing materials, brass fitting...
When it comes to plumbing materials, brass fittings may not be the first thing that comes to mind. However, these fittings have been used in plumbing for centuries and offer many surprising benefits that make them a top choice for modern plumbing systems.
Here are some of the surprising benefits of using brass fittings in your plumbing:
Durability: Brass is an extremely durable material that can withstand high pressure and temperature changes. Unlike plastic fittings, which can crack or break under pressure, brass fittings are able to withstand significant wear and tear over time.
Corrosion resistance: One of the biggest benefits of brass fittings is their resistance to corrosion. This makes them an ideal choice for plumbing systems that are exposed to moisture or corrosive substances.
Brass fittings
are also less likely to develop leaks over time, which can save you money on repairs and maintenance.
Aesthetically pleasing: Brass fittings have a classic, elegant look that can enhance the overall appearance of your plumbing system. They are available in a range of finishes, including polished brass, antique brass, and satin brass, so you can choose the style that best suits your decor.
Easy to install: Brass fittings are relatively easy to install, especially compared to other materials like copper or steel. This makes them a popular choice for DIY plumbing projects, as well as for professional plumbers who want to save time on installations.
Compatibility with other materials: Brass fittings are compatible with a wide range of plumbing materials, including copper, PVC, and PEX. This makes it easy to incorporate brass fittings into your existing plumbing system without having to replace other components.
Low lead content: While some types of brass fittings may contain lead, many modern brass fittings are designed to have low or no lead content. This makes them a safer choice for plumbing systems that may be used for drinking water.
Overall, the benefits of using brass fittings in your plumbing are numerous. From their durability and corrosion resistance to their elegant appearance and compatibility with other materials, brass fittings offer a range of advantages that can make them a valuable addition to any plumbing system.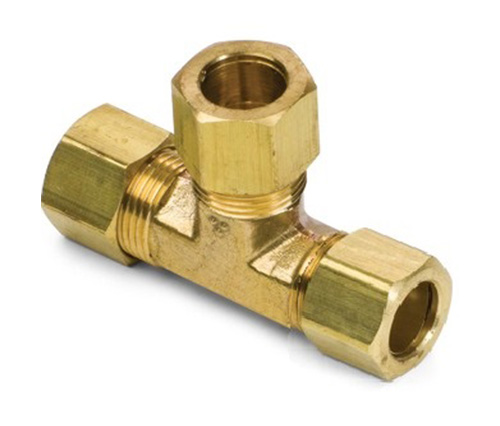 Applications : Air lines, Lubrication Lines, Cooling lines, Industry, Machinery, Compressors, Fluid transfer
Markets:  Industrial, Packaging, Pneumatic, Printing
Reference Part No : 64  -  164C  -  S64  -  64A
Product Features:
Meets functional requirements of SAE J-512
UL Listed for flammable liquid
Brass or acetal sleeve available
No tube preparation
Forged and extruded shapes
*Ref.SAE No.060401 BA
Our 64 brass union tee compressive fittings are UL Listed for flammable liquid and meet the functional requirements of SAE J-512. Available in forged or extruded shapes, they are available with both machined and socketed threads and in either a brass or acetal sleeve. Available with either brass or acetal sleeves, all components are designed for easy installation, so your installation goes smoothly.