Abstract:We will study different types of materials and the...
We will study different types of materials and the advantages and disadvantages of each material. Each accessory has a different purpose, but the general idea is to help you save water or extend the length of the garden hose.
In the long run, understanding different types of hose connectors will be of great help to you. If you break the hose, you can repair it with just a few dollars for a few hose accessories without having to replace the entire hose. The main purpose here is to help you understand which hose connectors to use and which hose connectors to avoid.
Knowing the different types of garden hose accessories will allow you to understand which type of hose is suitable for your home use. This article can be used as a starting point, where you can find additional information about types of hose fittings that may be of interest.
Brass hose connector
Solid brass hose connectors are durable and therefore most popular. These accessories are heavier because they are made of solid brass and are more expensive. You will find that all brass connectors have male or female connectors.
Solid brass fittings are not suitable for expansion hoses because they are suitable for larger rubber hoses.
The externally threaded joint has threads on the outside of the hose joint. The hose connector of the female thread adapter has threads inside. When repairing or extending the garden hose, you will need to use various female and male connectors.
Brass hose connectors can be found in any hardware store or Amazon, and the prices are quite reasonable. Although they are the most expensive type of hose fittings, solid brass is considered very safe.
You should pay special attention to the material of the hose connector, because you will let water flow through the hose connector. If it contains toxic substances, it is not very good for us.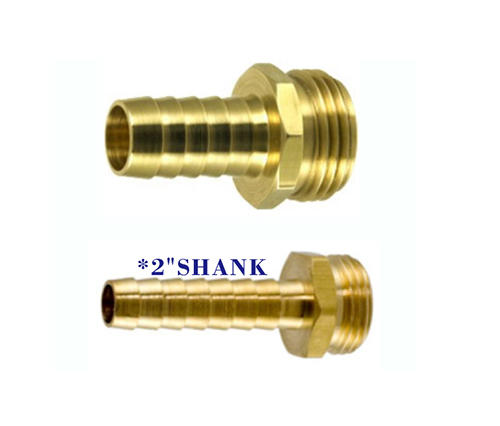 Plastic hose accessories
Similar to brass hose joints, plastic hose joints have the same purpose, with little difference. They are cheap and do not last as long as solid brass.
The plastic is very dirty and designed to withstand high water pressure, making it ideal for everyday household use.
If you have a solid brass hose connector, you can use plastic connectors instead of brass, they will achieve the same purpose.
Many people don't like them very much because this plastic immerses toxins in water, especially in unknown types of plastic.
Nylon and polymer hose connectors
Nylon and polymer hose connectors are more expensive than plastic, but cheaper than solid brass. They are more durable than plastic hose connectors and less durable than brass.
In contrast to plastics, which can be very unhealthy, many polymer materials are considered to be healthier options. The polymer hose fittings are custom made to fit perfectly, while the plastic processing is less.
Another advantage of nylon accessories is that they are cheap, lightweight and strong. They are more expensive than plastic, but are designed to last for many years.
Therefore, there is no need to find new ones, just buy a few and use them when needed, saving money on sturdy brass fittings.